Minutes of the Annual General Meeting of the Manawatu Amateur Radio Society
held on Wednesday 2nd August 2017 at the club-rooms
65 Totara Road Palmerston North
Meeting Commenced 19.30 hrs
Present; ZL2 VCC ,ZL2 IAN,ZL2AUB, ZL2 DAZ, ZL2DG,ZL1 TCG, ZL2JML, ZL2BILL, ZL2LI,ZL2TH,ZL2WD,ZL1RKW,ZL2GZ, ZL2MAX, ZL2GX,ZL3TK,ZL4KA.
Apologies; ZL2BPX, ZL2AFJ,ZL2BFB, ZL2KEJ,ZL2BJA,ZL2 AFT
Silent Key; ZL2FV
Minutes of the last AGM: These have been on the website for several weeks and were passed.
Reports
Presidents Report 2016/17
We've had some interesting meetings this year, including some visits. Darren took a group to Wellington to the National Rescue Co-ordination Centre recently which was very interesting and informative. We also had a visit to the Palmerston North Hospital where we looked around the power plant.
We had talks from Richard Harkett on Mesh and digital communications and also from Giovanni who recently returned from China.
Hopefully we can continue to have more of these kinds meetings, so if you know of an interesting speaker or would like to hear about a particular topic, talk to someone on the
committee and we will try and arrange a meeting.
Our next activity is the annual table sale at Longburn Hall on the 7th October. It's a great time to meet up with other hams and to sell that "no longer required gem" to someone
else. I look forward to seeing you there.
While writing this report it was brought to my attention that there was a rumour circulating
that the clubrooms are going to be sold. That is definitely NOT happening. In fact at our last committee meeting and the last general
meeting we discussed having a revamp of our clubrooms so that they continue to be a place where we want to go and spend time
We discussed putting in an insulated ceiling – that will hold the heat in winter, and help to
keep it cool in summer. ​
We also talked about taking the walls down around the kitchen and putting in a breakfast bar type of bench to open the area up, to put new cabinets in to make it easier to keep
clean, and to get some desks and put them along the walls so we can bring the radios and PC out of the alcove they are currently in. This will make it easier to use the equipment for
displays during meetings and workshops.
The clubroom is a huge asset to the club and we want to make sure that continues to meet the needs of the members now and into the future.​
​
Ian is standing down from his position as Secretary. I would like to thank him for the work he has done, and hope that we will still see him at the monthly club meetings. ​
If you have a free couple of hours on the second Wednesday of the month I would urge you to consider taking up the role of Secretary. The role is not an onerous one as most of the
communications can be done via email.
Thank you all for coming to the AGM, and continuing to support the Manawatu Amateur
Radio Society
Cheryl Wheatley ​
ZL2VCC
Moved Cheryl ZL2VCC
Seconded Hayden ZL2WD
Treasurers Report ( as read by the chairman)
MovedChesterZL2AFJ
SecondedStewartZL1TSG
AREC Report
Many thanks for those that have put their time helping out on callouts. Ian many
thanks for filling in when we were short of help.
We have had a lot of training; 14 training exercises including the Quiz night,
displays put on at Massey, Helo training and training with Sartrack, the latter a great
tool for Search and Rescue.
There have been 7 callouts this year, urban searches for missing people, overdue
Hunters and injured walkers.
Many thanks
Len Inkpen ZL2LI Section Leader Branch 20.
Repeater Trustees report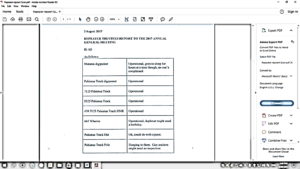 Webmaster / Social Media Report 2017
In the past year we have made improvements in our website with additions of Facebook Feed, For Sale 
We have added video content to the website from popular YouTube ham channels.
We have been working behind the scenes on a membership login and we are happy to announce tonight 
from Midday Saturday 5
th
 August 2017 you will be able to register for our member's only page. When 
you register you will be given a "Free" account. Once we have confirmed your membership you will be 
upgraded to "Member" status.
This will give you access to the Membership list with Members contact information on it. This 
information is for Members only. If you wish your Membership details not to be shown on this list then 
please email 
webmaster@zl2ko.org.nz
We are currently gathering information on Digital Voice networks and will have pages on "What you 
need to know" and recommendations of equipment from the Digital community 
In the next year we hope to be adding more content to the website and
 welcome any c
ontent ideas to 
our website from our members.
In the past year we have been using our Facebook and Twitter pages to announce events and 
sure 
information from around the world. 
We are looking at producing a live Facebook event of our Sunday and Thursday Nets. We are also looking 
at doing the same live event for Jock White field day next year.
To follow use on Facebook lookup "
Manawatu
Amateur
Radio
Society
Branch
20
"
To follow us on Twitter look up @MARS_branch_20
We welcome any ideas to post on either of our social media accounts 
Equipment
No changes Stewart ZL1 TCG
Election of Officers
President Cheryl ZL2 VCC Prop; ZL2 IAN Sec. ZL1 TCG
Vice President DarrenZL2 DAZ Prop;ZL1 TCG Sec ZL2 LI
Secretary Graeme ZL2 GX Prop;ZL2 DAZ Sec ZL2 LI
Treasurer Chester ZL2 AFJ Prop ZL2 VCC Sec ZL2 IAN
​AREC Leader Darren ZL2 DAZ Prop ZL2 LI Sec.ZL2 WD
AREC Deputy Len ZL2 LI Appointed by AREC Leader 
Committee
MaxZL2 MAX
Dennis ZL2 TDA
Stewart ZL1 TCG
Warren ZL2 JML
Hayden ZL2 WD
BillZL2 BILL Prop ZL2 BEQ Sec ZL1 RKW
Contact Darren ZL2 DAZ Prop;ZL2 VCC Sec.ZL2 IAN
QSL Manager Warren ZL2 JML Prop; ZL2VCC Sec;ZL2 IAN
Repeater Trustees Scott ZL2 FX Prop; ZL2 TDA Sec;ZL2 VCC
                                  Denis ZL2 TDA Prop;ZL1 TCG Sec;ZL2 JML
Web Site Hayden ZL2 WD Prop; ZL2 DAZ Sec; ZL2 AUB
ZL2KO Trustee Pete ZL2 AUB Prop;ZL2 IAN Sec;ZL2 VCC
Equipment Stewart ZL1 TCG Prop;ZL2 WD Sec;ZL2 IAN
​Examiners
Pete ZL2 AUB
Ian ZL2 IAN
Max ZL2 MAX
John ZL2 TG
Financial Reviewer Trevor BrightingProp;ZL2AFJ SecZL2 DAZ
( Previously called the "Auditor")
CaretakerWayne ZL2To be confirmed
Presentation of Activity Contest awards
There were 27 participants in the contest with five exceeding 200 QSO's.
Warren, ZL2 JML, the organiser this year, presented the club with a certificate listing all participants. A certificate also went to Laurie ZL2 HQ for acting as the mystery
station and to John ZL2ADN for his participation despite health problems.
VHF only section
1st Ruth ZL4 KA
2nd Stan ZL3 TK
Open section
1st Ryan ZL1 RKW
(VHF & HF) 2nd Len ZL2 LI
3rd Pete ZL2 AUB
General
Subscriptions; on the recommendation of the treasurer it was moved that subscriptions for 2017/18 remain the same ( $40 ordinary member,$50 family) .
Moved Cheryl ZL2 VCC Seconded Darren ZL2 DAZ
Pete ZL2 AUB has been investigating the WIA examination system where the candidate can sit the exam "on line" without the need for presiding examiners.
Darren ZL2 DAZ drew attention to the table sale and the need for Raffle prizes. It was suggested that we look outside electronic style prizes and include items such as a meat pack.
Warren ZL2 JML presented members with blank copies of a questionnaire developed from a similar questionnaire used by Essex Hams in the UK. Members were asked to complete the sheets and return to him.
There was a general agreement that the club could increase its social activities.
Meeting Closed 20.32 hrs